Integrated Thermal Management System
Manage thermal energy,
creating the future to run further
Sanden's integrated thermal management system improves cruising distance and comfort of electric vehicles.
Seeing through how the 2030 society would change, Sanden decided a vison of "To create the affluent society environment and comfort are in harmony".
The automotive industry is accelerating electrification of vehicles due to increasing environmental awareness and tightening of environmental regulations
across the world. Since no exhaust heat from engine is available on electric vehicles, the drive battery consumption increases during heating and cooling, which leads to
a decrease in cruising distance. This is a major challenge for electric vehicles to be solved.
Sanden is developing new technologies that will contribute to extending the cruising distance and improving passenger comfort by effectively utilizing the thermal energy of electric vehicles in an integrated manner.

Integrated Thermal Management System Development Project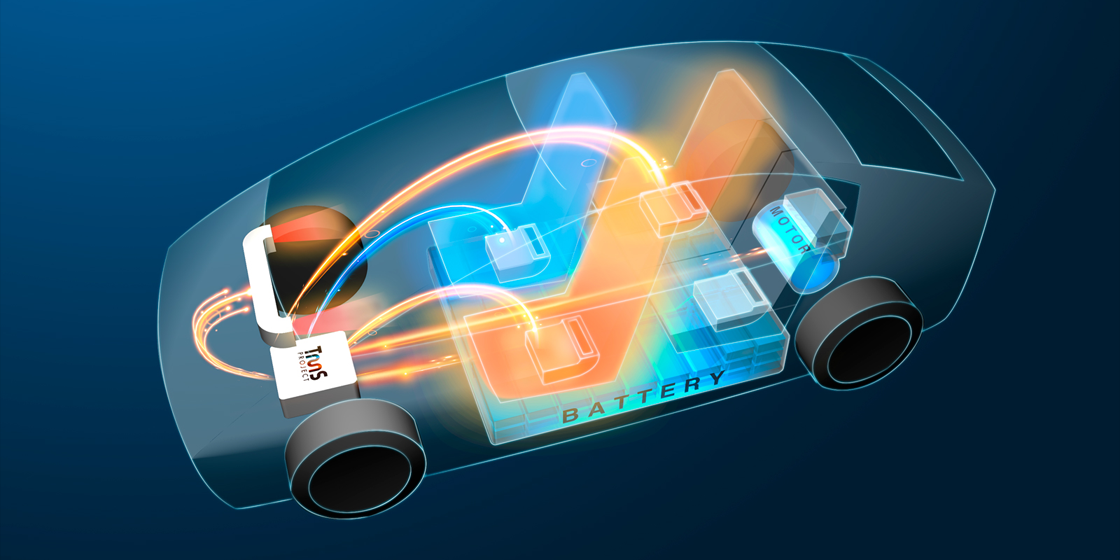 Strong Points
The exhaust heat from the powertrain, including motor and inverter, is recovered without waste, and the recovered heat is utilized effectively applying Sanden's heat pump technology.
The thermal energy obtained through the above process is also used to cool and heat the battery so that its temperature can be kept at an optimal level to maintain the performance.
By adopting a secondary loop water circuit, the combination of heat pump system and coolant heater provides optimal temperature control even at extremely low temperatures of -15℃ or lower. The heat pump system will also be modularized to help automakers improve their productivity.
Sanden optimizes the thermal management of an entire cooling and heating system of vehicle,
including an air conditioning system and other relating equipment, to provide a comfortable space using less energy.
PROJECT

Pikes Peak EV Charenge

Development of the lithium-ion battery temperature control system for racing

Since 2019, Sanden Corporation has been sponsoring the "SAMURAI SPEED" (produced by ZERO e SQUARE) intending to participate in the "Pikes Peak International Hill Climb" held in Colorado, USA. The team is intending to enter the race with its electric vehicle.

Sanden Corporation provides the "lithium-ion battery temperature control system" for the racing application. In 2020, it was successful in developing the latest-type water-cooled temperature control system. It had to decide not to participate in the race due to the spread of COVID-19,
but is continuing and accelerating the development in preparation for the next year's race. It will continue to collect and verify the data taken under the severe usage conditions to promote the technological development of integrated thermal management system.