A Message from the Top Executive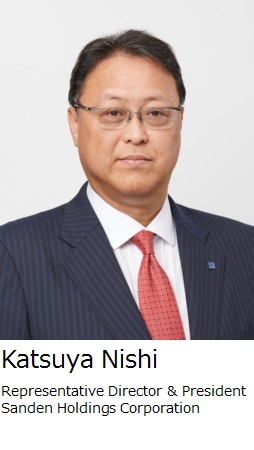 Since the day of foundation in 1943, Sanden group has always been conducting its business activities bearing in mind creation of products that are loved by customers. It has also been developing various products, such as bicycle lamps and dynamos, refrigeration showcases for business purpose, vending machines, automotive air conditioning systems, and their compressors, based on its core technology of 'Cool and Heat'. Anticipating needs of the times, in order to contribute to the prosperity of customers and society, we are globally developing business through the development of world's first and industry-first products that apply various new technologies.
We developed the new mid-term management plan, 'SCOPE 2023', in April, 2019, under the concept that 'In order to establish the affluent society based on the harmony of environment and comfort, Sanden should be the company that everyone trusts, by keeping up with the times', as our ideal structure.
We believe our mission is to 'create comfortable spaces that enrich human lives' after looking ahead to the society in 2030. In order to contribute to the prosperity of society by fulfilling our mission, we are going to accelerate the development of cutting-edge technologies involved in 4 fields of 'automotive air conditioning', 'smartification', 'energy usage', and 'social welfare'.
Sanden group will reflect the ESG views to its management for further growth while striving to ensure achievement of 'SCOPE 2023'. In order to contribute to achievement of SDGs, we set 2 major activities; 'Solve social challenges and increase customer satisfaction through new technology development' and 'Implement work style reform to revitalize business activities'. We pledge to have more frequent communication with stakeholders, solve social issues, and finally meet stakeholders' expectation.
We will appreciate any suggestions and assistance you may offer.
June.2019